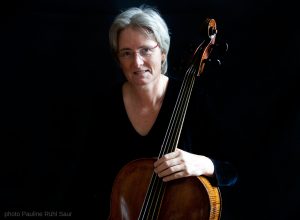 VIOLONCELLE BAROQUE – VIOLE DE GAMBE – BASSE DE VIOLON
Marion Middenway a commencé ses études musicales en Australie avant de partir se perfectionner aux États-Unis en 1980. Élève de Janos Starker, elle reçoit son diplôme avec mention spéciale en 1984, puis décide de se spécialiser dans l'interprétation de la musique ancienne.
Dans la classe de Jaap ter Linden elle travaille la viole de gambe et le violoncelle baroque aux Conservatoires de La Haye et de Rotterdam, obtenant le diplôme de concert en 1989.
Depuis 1986 Marion Middenway mène une vie de concertiste très active ; invitée par de nombreux ensembles de musique ancienne, elle s'est produite dans le monde entier et a collaboré à plus d'une centaine d'enregistrements en tant que continuiste, soliste ou membre d'orchestre.
Pendant ses années aux Pays-Bas, elle travaille régulièrement avec Ton Koopman et l'Amsterdam Baroque Orchestra. Sous la direction de Jos van Immerseel elle participe en 1987 à la création de l'orchestre Anima Eterna, où elle joue pendant presque vingt ans.
Après son installation en France en 1991, elle joue principalement aux Musiciens du Louvre, assurant la fonction de premier violoncelle solo pendant sept ans. D'autres ensembles français font appel à ses services : Le Concert Spirituel, Stradivaria, Les Arts Florissants ou La Grande Écurie, et ponctuellement des groupes étrangers tel que le Freiburger Barock Orchester, l'Akademie für Alte Musik Berlin ou les Agréments…
La musique de chambre occupe maintenant une place importante dans ses activités et lui permet d'aborder plus de trois siècles de musique : elle se produit régulièrement en récital solo et en petite formation.
Titulaire du C.A. de Musique Ancienne, Marion Middenway a enseigné la viole de gambe et le violoncelle baroque aux Conservatoires de Metz, de Villeurbanne et de Nantes. Actuellement, elle continue son engagement pédagogique lors des stages, conférences et masterclasses.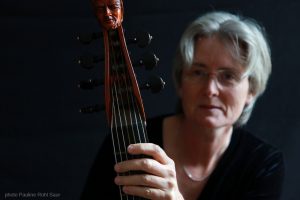 BAROQUE CELLO – VIOLA DA GAMBA – BASS VIOLIN
Marion Middenway began her musical training in Adelaide, Australia. In 1981 she was awarded a scholarship which enabled her to transfer her studies to the U.S., where she gained her B.Mus. degree with Distinction from Indiana University, as a student of Janos Starker.
On graduating in 1984 she decided to specialise in historical performance practice, and moved to Holland to study baroque cello and viola da gamba with Jaap ter Linden, leading to a Performer's Diploma (U.M.) from the Rotterdam Conservatorium in 1989.
Since 1986, Marion has maintained an active performing career, touring throughout the world and participating in over 100 cd recordings. During her years in Holland she was a regular collaborator with Ton Koopman and The Amsterdam Baroque Orchestra. As founding member of Anima Eterna (Jos van Immerseel) in 1987, she remained a core player there for almost twenty years.
After transferring her base to France in 1991, she was principal continuo cellist with Les Musiciens du Louvre for seven years. Other ensembles continue to seek her collaboration : Le Concert Spirituel, Stradivaria, Les Arts Florissants or La Grande Ecurie, as well as groups from further afield, such as Freiburger Barock Orchester, the Akademie für Alte Musik Berlin or Les Agréments…
Chamber Music now represents an important part of her activity and allows her to perform a wide variety of repertoire ranging from renaissance improvisations, Bach suites and cantatas or gamba consorts through to early-19th century music with piano.
A committed pedagogue, Marion was awarded the french higher teaching diploma (C.A.) and has taught baroque cello and gamba in the conservatories of Metz, Villeurbanne (Lyon) and Nantes. She currently concentrates her teaching activities on workshops, conferences and masterclasses.